CUMC – Where Discipleship Comes Alive!
Basketball and Cheerleading Registration is Open!
Are you the person encouraging others? Are you the individual who has the love of dance and wants to share it with children? Are you the one who wants to coach children in cheering and supporting their team? Are you looking for an opportunity to share your gifts and be a volunteer? If so, please share your desire to be a volunteer coach during our upcoming basketball sign-ups.
Basketball practice is on Monday and Tuesday from 6:00 PM to 8:00 PM starting December 2nd, 2019
CORRECTION:
Cheerleading practice is on Tuesday from 6:30 PM to 7:30 PM starting December 3rd, We could use an additional cheerleading coach for a Monday evening practice.
Join us three weeks on Sunday afternoons at 2:00 PM starting December 1 or Tuesday mornings at 10:30AM starting December 3rd for an advent Bible Study.
Support Our Indiana Teachers with Red for Ed!
Sunday, November 24, 2019, the members and attendees of CUMC gathered in our Atrium area to show support for our teachers by observing "Red for Ed".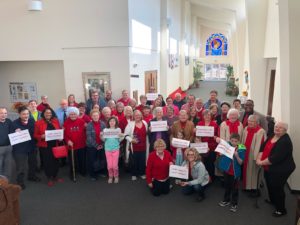 Opportunities
Small Group Tuesday 6:30 PM
Girls Scouts Tuesday 6:45 PM
Boy Scouts Wednesday's at 7:00 PM
Small Group Thursday 1:00 PM
Small Group Thursday 6:00 PM
Euchre Playing Thursday 7:00 PM
Worship
CUMC is a Christ centered church that focuses on serving each other and our community!
Check out the worship
blog
Community
Check out how we serve our community and ways that you can give of your time, talents, and treasures!
For those seeking a chuckle or wanting to validate that church members have a sense of humor. check out our
Amusement Corner
219 North Muessing Street
Indianapolis, Indiana 46229
(317) 894-3454
Copyright ©2019 CUMBERLAND UNITED METHODIST CHURCH. All rights Reserved.