CUMC – Where Discipleship Co

mes Alive!
Church Activities Are Suspended until Monday, April 27th.
Palm Sunday, April 5th 2020
You may be asking "What is Palm Sunday? Why is it important?"
Matthew 21 verses 1 to 9 are a good reference. Here's a contemporary look:
Jesus was loved and respected by the people. He rides a borrowed donkey into Jerusalem much like a parade. Instead of the red carpet, he has a carpet of palm leaves.
Maundy Thursday is April 9th, 2020
This is the Thursday before Easter.
We re-enact the Last Supper of Jesus and His Twelve Disciples.
We get to role play and experience some of the emotions the disciples may have felt during this meal. This is the last meal Jesus had with his disciples prior to his death on the cross as foretold.
Good Friday is April 10th, 2020
This is the day Jesus is crucified and died.
Why is it so good when he dies? It is the start of what God planned to redeem the people. Jesus died on the cross for all of our sins. He is our redeemer and savior. He is our bridge to God. As Christians, this is a a solemn day yet we know it isn't the end.
Easter is Sunday, April 12th, 2020
Celebrating Jesus' Resurrection
He reveals himself to the women and then the disciples as foretold. It's a new beginning!
Practice Generosity of Spirit –
Keep Your Faith Alive
Show others love and kindness to let them know you care. Don't get tired of doing good. Don't give up caring for others with a smile, quick phone call, text, card, or waving at them through the window.
Meet Ruth Hein,contributor to Voices of Hope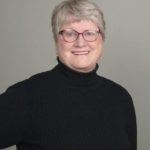 Read the excerpt that Ruth contributed name "Gasping for Air"
Congratulations to Coach and Referee DJ!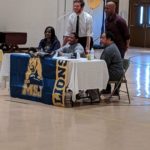 DJ (middle at the table) played in the Cumberland Basketball league in his younger years. He was coached by his father, Derek (right of DJ). He returned to CUMC as a coach and referee to give back to the community. CUMC is so proud of his accomplishment! Great job!
Opportunities
Small Group Tuesdays at 6:30 PM
Girls Scouts Tuesdays at 6:45 PM
Riley Wranglers Wednesdays at 6:45 PM
Boy Scouts Wednesdays at 7:00 PM
Small Group Thursdays 1:00 PM
Small Group Thursdays 6:00 PM
Euchre Playing Thursdays 7:00 PM
Worship
In-person Services Cancelled for Sundays April 12th, April 19th and April 26th 2020
Sundays
Sunday Learning at 9:00 AM
Blended Worship at 10:00 AM
Community
Check out how we serve our community and ways that you can give of your time, talents, and treasures!