When life gets busy and you are unable to make it for worship yet you want to still continue your giving
To make tithing easier each week or month
Simply click the Donate Button for PayPal or Givelify Image below to make your CUMC contribution.
CUMC's focus is to connect with our neighbors and to serve our local, national, and global communities. 1 Corinthians 12:12-27 highlights how all parts of the body work together and no body part is more important than the other as they all must be working together. The body reference then leads into how the church works together to carry out Christ's mission.
1 Corinthians 12:27 Now you are the body of Christ, and each one of you is a part of it. (New International Version)
Each one of us has unique and beautiful talents and gifts to worship and honor our Lord Jesus Christ! Each person's talent is equally important as any other person's talent. Use your gifts to further Christ's kingdom and share love!
See below for the various communities we serve.
Kroger Rewards
Put your Kroger rewards to work for CUMC!
CUMC joined the Kroger Community Rewards Program in 2016. Participants with a Kroger Rewards Card can register their card to CUMC organization number AG 852. A percentage of what you spend is given back to CUMC Missions Committee. The Missions Committee uses funds for our local, national, and global missions.
Community Outreach Ministry Eastside (COME)
This is our Eastside Food Pantry in Cumberland that
is supported by multiple churches in the Cumberland Area.
Please click COME for more details.
Project Transformation
This is a summer day camp program for elementary students entering grades 1 through 6 in the Fall of 2021. The focus is enriching the mind, body, and spirit through an activity based literacy program.
Angel Tree Ministries
This ministry allows CUMC to demonstrate love for our community at Christmas time by being the hands and feet of Jesus. This ministry provides Christmas gifts to children who have incarcerated parents. The gifts are from the parent with a personalized message.
Block Party
We love family friendly (and budget friendly) parties! Our 2019 Block Party activities were FREE of charge! The weather was beautiful and the fellowship with each other was outstanding. 2019 marked our Third Annual Block Party.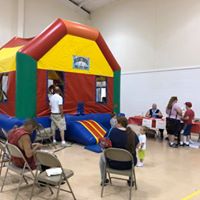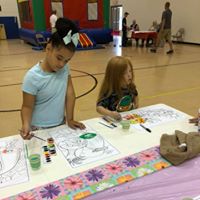 Henderson Settlement
Do you have a passion to go on a mission trip yet want to stay in the states? If so, look no further than Henderson Settlement.
CUMC has a passion for serving. In 2017, a group of ten CUMC people spent their Spring Break at Henderson Settlement putting vinyl siding on a home. The trip allowed those serving to experience a whole new level of service.
CUMC is a place where Discipleship Comes Alive through our connections in the community.