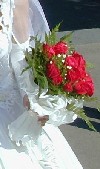 Are you looking for a Wedding Venue or meeting space?
Check out CUMC for your next event!
Cumberland UMC Building Usage Policies
If you are looking for a place to host your next event, please consider our facility. All individuals or groups desiring to use our facility must first fill out and submit your
application
to our church office. Once the application has been reviewed, you will be contacted by our church office with the application status. Approved application requests require a security deposit of $100 at the time of scheduling and 1/2 the rental fee. Security deposit is refundable provided there is no damage to the facilities.
Multipurpose Room is able to accommodate up to 200 people.
Fellowship Hall is able to accommodate up to 50 people.
Classroom s
pace is able to accommodate 5 to 15 people.
$200 Plus the cost of custodial services, security, and setup and tear down 4 hour minimum
$150 Use of warming kitchen (in addition to securing the room; 0nly available with the Multipurpose Room or Fellowship Hall)
$50 per hour Sports Events plus the cost of security and custodial service 1 hour minimum
$25 per hour Meetings with fewer than 25 people 1 hour minimum
$40 per hour Setup/Tear Down
$60 flat fee Custodial Fee
$15 per hour Security Fee for event duration
We are thrilled that you would consider our facility for this meaningful step in your life! Please
email
the church office to schedule an appointment to visit our building and get a better idea of the space and possibilities.
Sanctuary $200 Organist $150 Pastor $200 (including 3 counseling sessions, rehearsal & ceremony) Sound Engineer $45 Custodian $60 Total $655