Project Transformation (PT)
CUMC completed our third year of PT!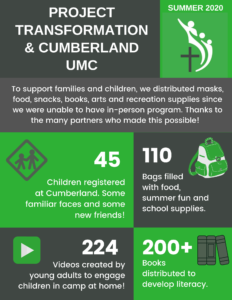 2020 Project Transformation Highlights
Bags distributed to our campers included:
Food for the family
Snacks for the children
Summer supplies such as sunglasses, sidewalk chalk, jump ropes, art supplies, and more
Final bag distribution included backpacks for school filled with supplies and snacks for the new school year
Videos created included opening dances and games, reading activity videos, and enrichment activity videos about science, healthy habits, and more
Program Details Are Found At
Christ calls each of us to show our faith. James chapter 2 verse 18 from New International Version Bible states:
But someone will say, "You have faith; I have deeds." Show me your faith without deeds, and I will show you my faith by my deeds."
James 2: 18 Bible Gateway
Anyone interested in donating to PT can donate in the following ways:
Project Transformation (PT) is a summer day camp program for children entering grades 1 through 6 that focuses on enriching the mind, body, and spirit through improving literacy and social-emotional development.
This program operates eight weeks in the summer in three communities in high-need neighborhoods throughout the greater Indianapolis area. Each day children read one-on-one with community volunteers and participate in daily enrichment activities incuding recreational play and exercise, creative arts, and interaction with our young adult interns and community volunteers, who inspire and encourage youth daily to make responsible, sound decisions.
Project Transformation collaborates with several groups in our community. These groups provide funding for our programs, ministry exploration opportunities for our interns and in-kind donations and services to further our mission. Many of these groups serve as volunteers with us, helping to support the participants we serve.