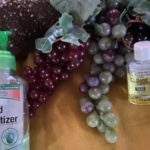 "God is our refuge and strength, an ever-present help in trouble.
Therefore we will not fear, though the earth give way and the mountains fall into the heart of the sea" (Psalm 46)
In the midst of anxiety, we must remember that God is able.
"God is our refuge and our strength, a present help in times of trouble." (Psalm 46)
"In challenging times, God calls the church to shine Christ's salt and light (Matthew 5:13) to the hurting world."
It's been a rough week and a strange week for me and for many of you.
Some of you work in schools and are uncertain about when you or children will return to your building. Some of you find yourself in situations of caring for those in assisted living facilities that you can no longer visit. Most of you likely find yourselves in an awkward and challenging mix of wanting to stay informed but also being understandably overwhelmed by the gravity of this situation, seeking distraction from the constant news stream.
In the past few days, I have said the word "coronavirus" (COVID-19) more than I ever thought I would. I have had conversations with nurses, and other medical professionals to gain perspective on what the media exaggerates and what is a real threat to the health of our congregation. Unlike most weeks, with my primary browser tabs open to mostly Scripture passages, emails and commentaries, some of the web browser tabs that I have had open regularly this week are:
After prayer, discernment, research and consulting with health care professionals, clergy colleagues and our CUMC lay leaders, I've made the difficult but necessary decision to cancel our worship services at Cumberland United Methodist Church for:
Additionally, the Scouts (Cubs and Boy Scouts), Riley Wranglers and Haitian English classes have been suspended until further notice as well. Using the Warren Township schools as a guide, as CUMC leadership, we will aim to re-open on Palm Sunday, April 5th (Warren MSD goes back the next day).
But there are still uncertainties, and we will continue to evaluate the situation in the coming weeks. If the Warren MSD extends their period of COVID-related-closure, we will likely do the same. It's the best decision for the health of our congregation. I realize this decision may upset some people in our congregation, and some might claim that I am overreacting. I need you to understand that I made this decision neither lightly nor out of panic.
There is, as I've heard, only one confirmed case in Greenfield, but across the board medical professionals agree that a much larger presence of COVID-19 is coming and, by the time more local cases are confirmed, the virus will already have infected multiple persons. At that point, cancelling worship services would be reactionary and too late. Cancelling now, before the virus hits, is preventive and responsible.
The people of our congregation are my primary concern in making this decision to cancel. The demographics of CUMC include many people in the high-risk age groups and/or have chronic conditions that make them more susceptible infection such as COVID-19. And so, we won't meet these next two Sundays. While we are in this period of waiting, let's not be passive, but active participants in God's kingdom work. Here are a few tangible things you can do:
Check in with and make phone calls to those with whom you have formed a relationship over your years at CUMC. Leadership Chair, Robin Potter and along with other CUMC leaders are working to create manageably sized lists of people to be support to each other during this time. Stay close to your email for more updates there.

Join the online group of Wednesday night's Bible Study (Short Stories by Jesus). We're cancelling the Tuesday morning session, but we're trying something new with online connection on Wednesdays (3/18, 3/25, 4/1) instead of meeting at The Mug. Don't worry, after the dust settles, we can always find a time to go grab a meal in Irvington together.

Stay close to your email for a weekly sermon audio update from Pastor Ronnie. Keep sharing your joys and concerns to me via email (click on the word email) and I can make sure that as a congregation we find our way to keep saying "Alright!!!" (praising God) or "We pray with you!" (seeking God together) together as a community.

Please continue to give financially. Even in this time of suspended worship services, the church still needs to meet its financial obligations and generosity is a spiritual discipline. Of course, "snail mail" (USPS) works well, and you could just mail a check to the church office:
219 N Muessing Street
Indianapolis, IN 46229
But, if you have never done online giving, now is the PERFECT time to begin. We have two options:
Keep checking The CUMC Website for updates and explore all of the updates that our webmaster Joni Johnson is putting up via an email link. And I speak for myself and the CUMC leadership teams when I say that we are open to input and ideas on how to stay connected and committed to our mission during this strange and challenging time.
Somehow, through all of this, I feel God's peace and presence. It's an honor to be your pastor and to think that one day, we'll look back, smile and laugh at the way that God through His goodness brought us through this COVID-19. I'm reminded of Paul's words to the Philippian church
"And the peace of God, which transcends all understanding, will guard your hearts and your minds in Christ Jesus."
So, I pray that you can take a break from your social media feeds and the COVID news coverage, and remember that in good times, and in turbulent times, your hearts and minds are guarded by God's peace.
Christ's Peace,
Ronnie