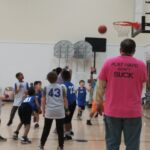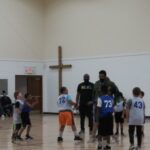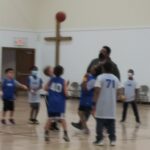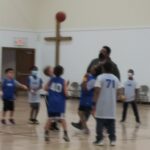 Double header team wears blue for both games. Opponents wear white.
12:00 PM Suns vs SR Lakers
12:00 PM SR Lakers vs Warriors
1:00 PM SR Lakers vs Suns
12:00 PM Warriors vs Suns
1:00 PM Warriors vs Sr Lakers
General League Information:
Boys and girls play together on our teams.
One practice planned for each week. Practice nights are Monday and Tuesday. Practice is at either 6:00 or 7:00 PM.
Reversible jersey issued to each player.
Our players learn and have fun in our faith based program. This is not a high intensity program. Practice and games should be fun for all.
We will try to balance our teams which means some players may shift around at the beginning of the season.
Saturdays, starting on January 22
First game starts at either 9:00 or 10:00 AM, then every hours. Start time depends on how many teams and games played.
This is a recreational program. We believe our kids can be competitive and play hard in a family friendly environment that is fun for everyone involved, including the referees.
Arguing or abusive remarks toward officials, coaches, players or other spectators will not be tolerated. Anyone who is unable to enjoy the game in a friencly way will not be permitted in the gym.
Coaches and Referees:
Coaches and referees are volunteers. Our league will not be able to operate without parents or others willing to coach and referee our teams.
Please consider being a coach or an official. It is fun, not too hard, and we will give you whatever help we can to ensure a good experience.
This is a constantly changing situation, so our protocols will adjust in response to what circumstances arise.
Here are some likely protocols that we will follow:
Masks must be worn in our building
Once players are on the court and activity begins, players may remove their masks.
Coaches who have been fully vaccinated may remove their masks during practice.
Parents and guardians who choose to be in the gym must keep their masks on.